After almost exactly two years, ProRes RAW support is available for Premiere Pro.
Back in April 2018, Apple released ProRes RAW. It is built upon the same technology as other ProRes codecs, but is directly applied to the raw data coming from the sensor, thus delaying the debayering process to the post-production stage. ProRes RAW therefore aims at quality and better colour reproduction, rather than performance.
This allows cinematographers with the right cameras the ability to shoot with a much greater colour depth, without raising the bitrate much. For example, the Sony FS5 allows you to output a 12-bit RAW signal to an external recorder such as the Atomos Shogun 7. Prior to ProRes RAW, you had to bake your 12-bit RAW signal into a 10-bit ProRes codec… And whilst this gives you great results, you are still sacrificing a lot of information as shown in the diagram below: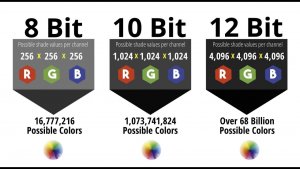 One thing that peeved cinematographers about ProRes RAW for the last two years is that up until now, it was only supported by one editing software – Apple's own Final Cut Pro X… But after two years of waiting, finally, ProRes RAW Support is available for Premiere Pro. Whilst for now it's only Beta support, we can be sure that the full stable release isn't far away!
For Windows users, to gain access to ProRes RAW Support for Premiere Pro, first click here and download the Beta Support for ProRes RAW directly from Apple's website. After you have done that, open up your Creative Cloud application, and on the left hand side you should see a menu bar with the option "Beta Apps". Click on that and download the Beta versions of Premiere Pro.
For Mac users, there is no need to download the Beta support software. Just head to your Creative Cloud application and download Premiere Pro from the Beta Apps and you can get stuck into your ProRes RAW footage straight away.
If you're looking for a ProRes RAW file to download, then Click Here to visit filmplusgear.com and download one of Claus Andersen's ProRes RAW test files.
Need Equipment Rental? Click here to see our Rental Equipment
Want to see some of our work? Check out our Portfolio
Need to talk to us? Contact Us Here